AMD Kaveri GPU 40% Faster than Intel i5-4670K in FireStrike
Posted: November 17, 2017
---
AMD Kaveri GPU 40% Faster than Intel i5-4670K in FireStrike
---
AMD's acquisition of ATI paid off this year when the company went in the black for the first time in years due exclusively supplying to all the major console makers. Another clear benefit from snagging the ATI team was it gave AMD an upper hand when it came to embedded graphics in their processors and while the performance is still no-where near most discreet graphics cards the upcoming processors codenamed "Kaveri" are closing the gap.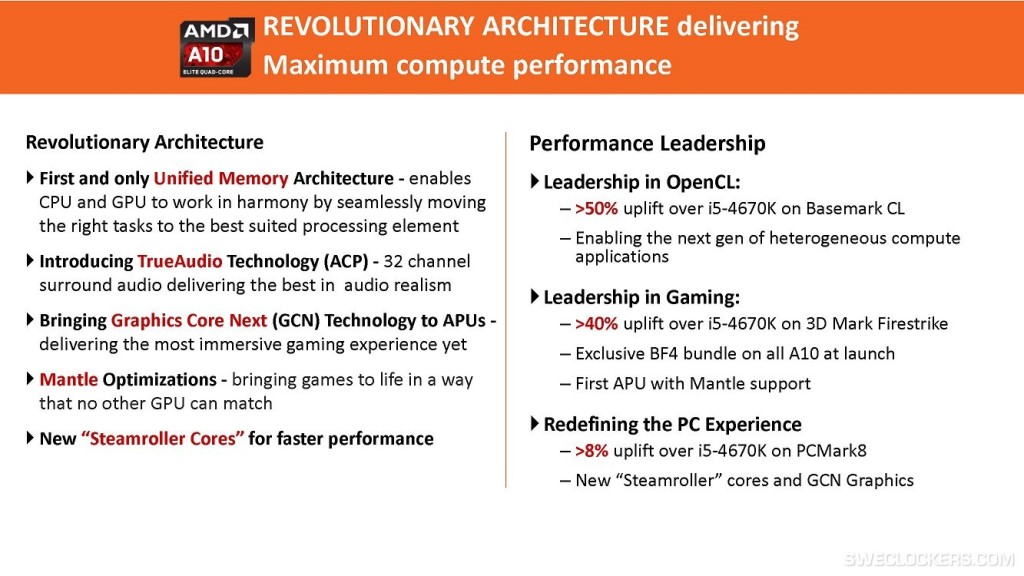 According to slide that appears to be released by AMD (but is not confirmed) show the gaming performance of the new chips as 40% faster than the Intel Core i5 4670k in 3DMark Firestorm and 50% faster in OpenCL applications. At this level of performance it isn't unreasonable to assume we could see the chip easily rending games at 30FPS, as long as the settings are not maxed out. In addition, it appears as if AMD will bundle Battlefield 4 with the new processors, which retail for under $200 – making it an exceptional value for gamers on a budget.
As you can see from the table below the flagship "Kaveri" processor will come with a quad-core "Steamroller" design that has a Turbo Clock frequency of 4GHz and feature 4MB L2 cache. On the graphics front it will include a total of 512 Graphics Core Next processing units and have a GPU engine of 720MHz.
| | | | | |
| --- | --- | --- | --- | --- |
| Model | AMD A10-7850K 'Kaveri' | AMD A10-7700K 'Kaveri' | AMD A10-6800K 'Richland' | AMD A10-5800K 'Trinity' |
| Cores | 4/4 | 4/4 | 4/4 | 4/4 |
| Turbo Core 3.0 | Yes | Yes | Yes | Yes |
| Base Clock | 3.7 GHz | 3.5 GHz | 4.1 GHz | 3.8 GHz |
| Turbo Clock | 4.0 GHz | 3.8 GHz | 4.4 GHz | 4.2 GHz |
| L2 Cache | 4 MB L2 | 4 MB L2 | 4 MB L2 | 4 MB L2 |
| Unlocked Design | Yes | Yes | Yes | Yes |
| Graphics Core | GCN Radeon R7 | GCN Radeon R7 | HD 8000 | HD 7000 |
| GPU Cores | 512 Cores | 384 Cores | 384 Cores | 384 Cores |
| GPU Clock | 720 MHz | 720 MHz | 844 MHz | 800 MHz |
| TDP | 95W | 95W/65W | 100W | 100W |
| Pre-Order Price | $189.24 US | $167.00 US | $149 US | $122 US |
| Launch Date | 14th January 2014 | 14th January 2014 | 4th June 2013 | 2nd October 2011 |
Read more: http://wccftech.com/amds-flagship-a10-kaveri-apu-bundled-battlefield-4/#ixzz2nadqRSsx