Kingston HyperX Predator 1866MHz & 2400MHz Memory Review
Posted: November 17, 2017
---
Kingston HyperX Predator 1866MHz & 2400MHz Memory Review
---

I was first introduced to the Kingston HyperX Predator at the 2012 PAX Prime Expo in Seattle. This one of the first public appearance of the new model, which showed a lot of promise. When it comes to Kingston products they use the HyperX name to denote all of their highest quality components. This is just limited to memory though, as they also use the HyperX branding for their high-performance USB flash drives and SSD's as well.
In this review we are going to be examining a duo of HyperX models, a 16GB kit that runs at 1866MHz and a 8GB Kit that runs at 2400MHz. What makes the memory we are reviewing different from others in the lower tier series is the flagship DDR3 lineup uses all high quality ICs, frequencies that range up to 2800MHz. Another area that makes this kit an improvement is it uses a new heat spreader for greater heat dissipation. In addition, the Predator memory is able to reach high frequencies at low power levels, so even the DDR3 1866 kit we are reviewing has a power rating of only 1.5V.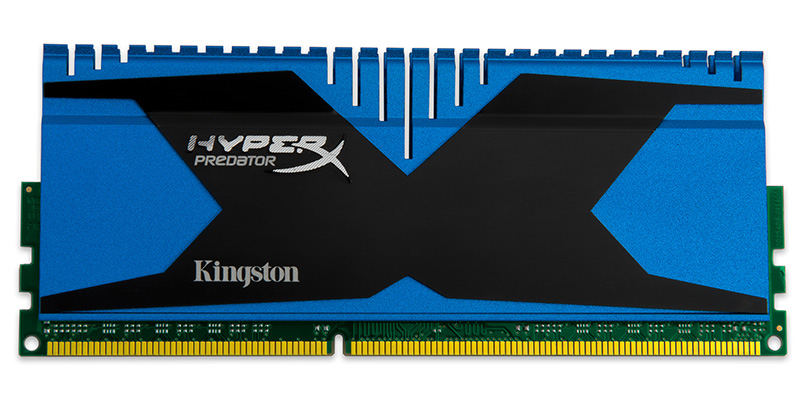 As the flagship memory product the HyperX Predator has a higher MSRP than some other series on the market, but with the current pricing of DDR3 memory none of the kits are overpriced in comparison to their competition. Looking over the prices at Newegg, we found a standard 16GB Predator kit with speeds of 1866MHz at a respectable $179. As the frequencies increased though the price went up per-gigabyte, as the 8GB kit of memory clocked at 2400MHz costs upwards of $99. Of course, the Predator series has kits that fall in between those two extremes, so there are options available for any budget.