MSI A88XI AC Mini ITX Motherboard
Posted: November 17, 2017
---
MSI A88XI AC Mini ITX Motherboard
---
Introduction
It seems like many moons ago, AMD released their first APU (Accelerated Processing Unit). For those who are not familiar with the term APU, AMD was the first to engineer a computer processor with the graphics built onto the actual die (Thus called an APU). Zacate was the original release with a low power budget APU (2 Bobcat cores) that was actually soldered to the board in a Min-ITX form factor. Next, came the long awaited Llano APU's (4 cores) which featured AMD's new "Bulldozer" cores. Both used x86 architecture and both were low priced APU's with Zacate being the budget of the two. We are not here to necessarily give a history lesson, but this was the start of a new direction for AMD. With today's desktop market pretty much in the basement, these APU's have actually given AMD a small boost in their value and also, some positive cash flow seeing they are used in the mainstream market.
The evolution continued with Trinity, Richland and today Kaveri featuring AMD's latest Steamroller cores. Along with Steamroller, the graphics part of the equation has grown from AMD's Radeon 6xxx series to the new R7 series giving the total CPU + GPU = APU package for the budget minded person.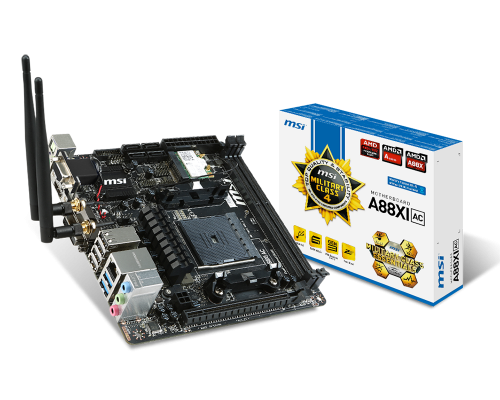 Today, we have a change of pace in store for everyone. It is a new release from MSI called the A88XI Mini-ITX motherboard supporting AMD's Trinity, Richland and Kaveri APU's. We have to say it looks cute but the question is: Does cute equate to performance? Let's get this "Cutie" to the lab and see what is under the hood of this little motherboard.
Innovation has always been MSI's strong suit. The long-term dedication to the development of intelligent technology has rendered MSI great in its flexibility in the pursuit of compatible business models and optimal sales channels. MSI not only holds itself responsible to its clients, employees and stockholders, but also to society and the environment. Through the development of eco-friendly technology, MSI and its partners relentlessly strive towards a sustainable future for all.

Let's take a look at AMD's Pile Driver cores.