Mushkin Ventura Pro 64GB USB 3.0 Flash Drive Review
Posted: November 17, 2017
---
Mushkin Ventura Pro 64GB USB 3.0 Flash Drive Review
---
If comedy is tragedy plus time, then looking at the history of portable storage is certainly laughable. Before the advent of USB flash drives, the primary mode for read/write storage portability was the floppy disk which was low-capacity, slow and notoriously unreliable. The early flash drives themselves were barely any better and pricey but after a decade, a 64GB USB 3.0 flash drive can now be had for as little as $30. Granted those are slower entry level models that can only provide up to 40 or 50MB/s read speeds but for only $10 more, you can get a Mushkin Ventura Pro that promises read speeds more than twice that much.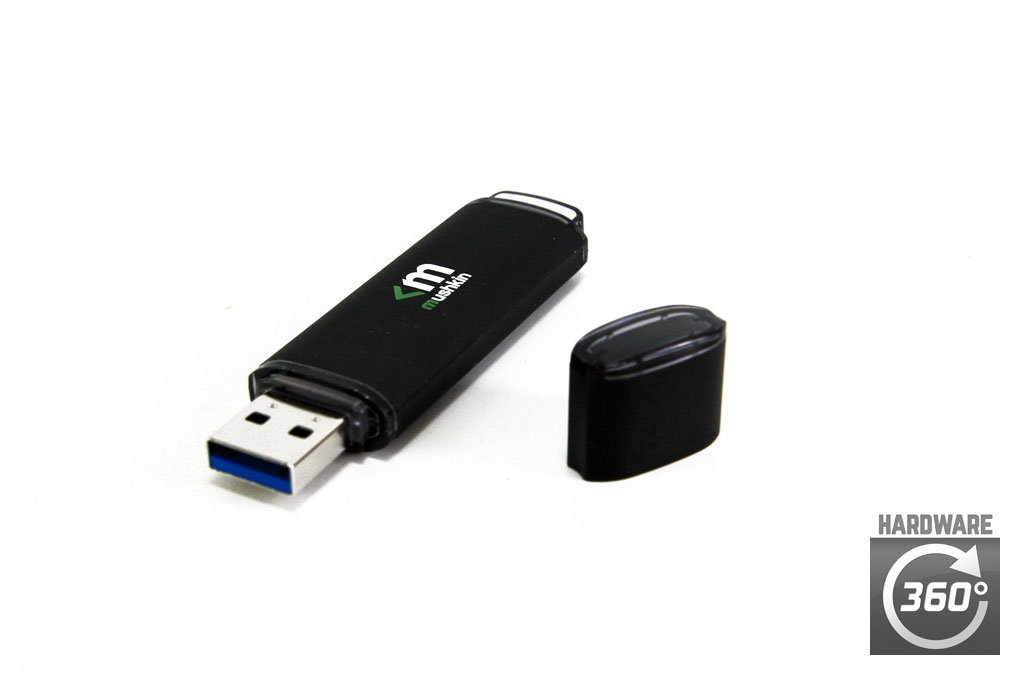 | | |
| --- | --- |
| Capacity: | 64GB |
| Read Speed: | up to 120MB/sec |
| Write Speed: | up to 70MB/sec |
| Interface Type: | USB 3.0 |
| Dimensions: | 73.36 x 19.88 x 9.07mm |
| Warranty: | 2 years |
The Mushkin Ventura Pro flash drive is packed in a molded clamshell locking container, easily accessible and opened without having to use any tools. The good thing about this type of packaging is the fact that it is resealable unlike typical blister packaging used by other thumb drives. The insert card promises read speeds of up to 120MB/s, fairly standard for a mainstream USB 3.0 drive these days but only testing can verify for sure how the Ventura Pro performs.
The Ventura Pro measures 73.36 x 19.88 x 9.07mm, also fairly standard and middle of the road in terms of flash drive sizes. There are no clearance issues in the surrounding area when plugged into a USB port. The body shell is aluminum coated matte black with smokey transluscent trim on both ends and in the neck area where the cap comes off. Metal housing is a superior chassis for the thumb drive not just for durability but because it can also double as a heatsink and be able to absorb some heat off of the internal components, especially when in use for long periods of time, prolonging lifespan.
Test system
| | |
| --- | --- |
| Processor: | Intel Core i7-4770K (Retail) |
| Motherboard: | ASUS Maximus VI Gene Z87 |
| Memory: | Patriot Viper 3 Black Mamba 2x8GB DDR3 2100MHz CL11 |
| Drive: | OCZ Agility 4 256GB |
| Video Card: | Intel integrated video |
| Thermal Compound: | Noctua NT-H1 |
| Operating System: | Windows 7 x64 Ultimate SP1 |
The next step is of course to plug in the Ventura Pro and check out whether it delivers close to what it promises in the promotional packaging. A flashing red LED indicator in the transluscent key ring loop provides a handy notice whether the drive is currently being read.
First up is an AIDA64 read test, my preferred alternative to an HDTune test:
Looks like Mushkin was underselling the Ventura Pro performance somewhat as AIDA64 sees closer to 200 MB/s on linear read results with random read going beyond that, a far cry from the 120MB/s maximum promised. Now let's switch it up with an AS SSD copy benchmark which does three separate tests simulating real-world transfers. The ISO test copies two large file sizes, Program test copies a folder of many small files while the Game test is a combination of both.
As is common with USB drives, the ISO test was fairly easy for the Mushkin Ventura Pro while the Program test with multiple small files only transferred at a single-digit rate. Next up is the CrystalDisk Mark, the most popular storage benchmark application.
We see more of that lovely 200 MB/s read speed here echoed by the AIDA64 test and the write speeds also surpass that of the promised 70 MB/s sequential write. 4K and 4K Queue Depth 32 may look really slow but that is typical of other USB flash drive performance. 512K read speeds also reach great 145.7 MB/s. This is about twice the sequential read and three times the sequential write performance of a similarly priced 64GB Patriot Supersonic Boost XT and is faster than the $8 more expensive Supersonic Rage XT 64GB by about 80MB/s in sequential read and twice as fast in sequential write.
The Ventura Pro 64GB flash drive may be modest when it comes to boasting its capabilities but it is definitely not a shy performer when used. The aluminum body is durable and can withstand the daily grind without suffering any external or internal component damage. One weak point in durability however is the plastic key ring loop which is a stark contrast to the tough metal casing with its milimeter thick transluscent plastic arch. This is most likely the first thing to go before you even lose track of where you have placed the cap. Overall, the reasonable price and speedy performance makes the Mushkin Ventura Pro an excellent value buy, earning a Hardware-360 approval.