Patriot Stellar 64GB USB 3.0/microUSB OTG Flash Drive
Posted: November 17, 2017
---
Patriot Stellar 64GB USB 3.0/microUSB OTG Flash Drive
---
Patriot Stellar 64GB USB 3.0/microUSB OTG Flash Drive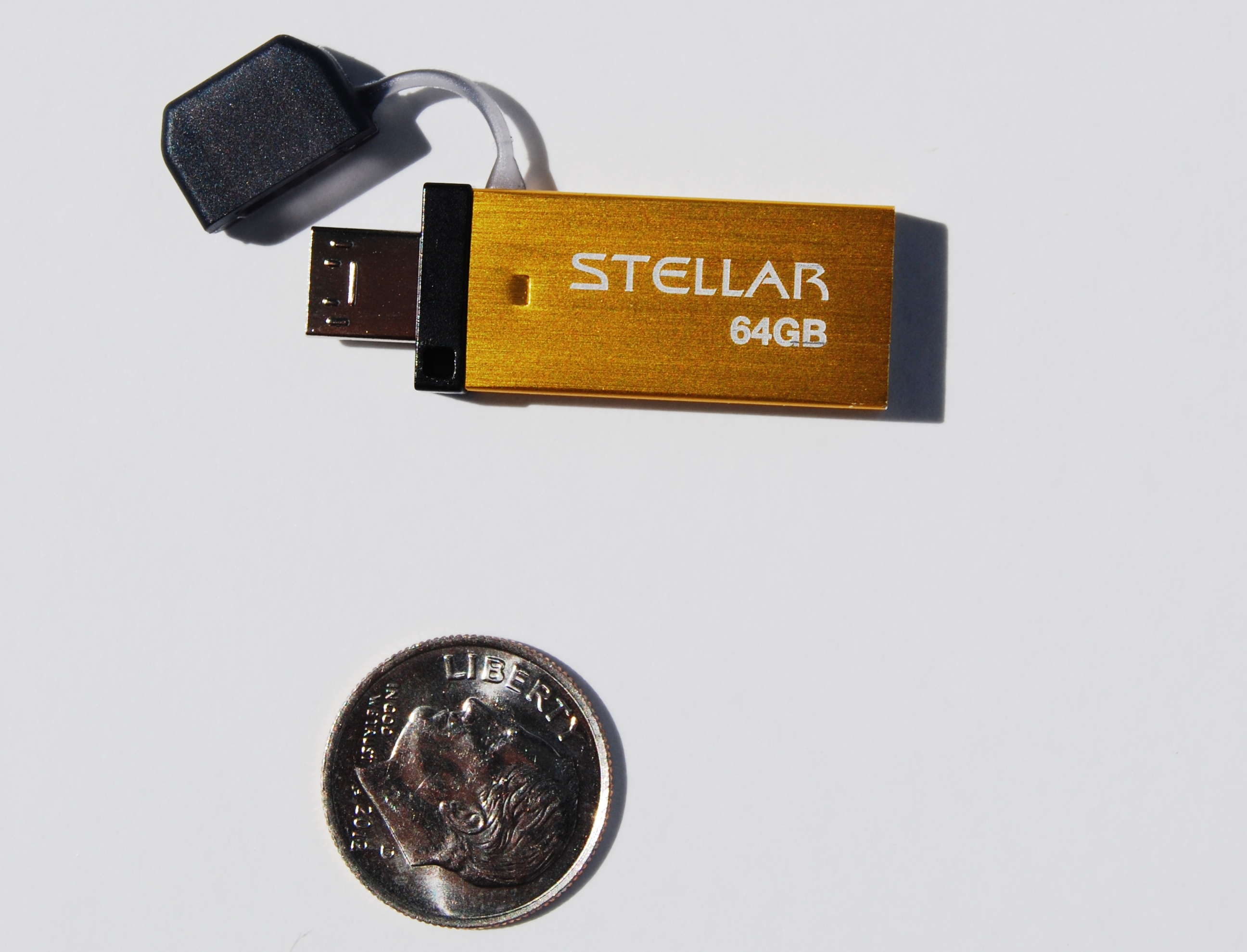 Introduction
Patriot is a worldwide leader in high-performance gear for the PC and now Android powered mobile device markets. The Mobility Series of Flash Drives includes the Stellar 64GB USB 3.0 and microUSB On-The-Go Flash Drive. The drive is exceptionally lightweight, crafted in bright yellow aluminum. The tiny drive has both a USB and microUSB connector, providing USB 3.0 transfer for PCs, notebooks, and microUSB OTG-capable Android phones and tablets.
The Stellar enables transfer of videos, music, and photos from and between OTG-capable Android devices. The USB 3.0 connector enables fast transfer of those files to and between desktop and laptop computers. For those whose phones are constantly reaching capacity, the Stellar allows a convenient storage expansion for OTG-compatible to free up precious device memory. The Patriot Stellar 64GB supports USB 3.0 and USB 2.0 for high-speed transfer speeds of up to 140 MB/s on PCs.
Specifications & Features
Upgrade your mobile storage with the Patriot Stellar USB 3.0 and USB OTG (on-the-go) compatible flash drive. The Stellar is equipped with a full sized USB 3.0 and Micro USB connector for compatibility with laptops and Android 4.0 & up based tablets or smartphones. The Stellar offers the enhanced transfer speed of USB 3.0 when plugged into a PC or laptop.

The Patriot Stellar is protected by a durable aluminum housing, offering best in class protection from the elements and heavy mobile use. Available in 16GB, 32GB, and 64GB capacities, the Stellar is plug-and-play compatible making it perfect for those who demand no hassle performance when it counts.
The Stellar is compatible with Windows® 8, Windows® 7, Windows® Vista®, Windows® XP, Windows® 2000, Windows® ME, Linux 2.4 and later, Mac® OS9, X and later*. Backed by Patriot Memory's award winning customer service, the Stellar comes with a 2-year warranty.
*Works on Android 4.0 & up Devices with OTG function is enabled
The Flash Drive:
The Patriot drive comes in a small blister pack. The unit is made of a lightweight and sturdy brushed aluminum. The 64GB model comes in the bright yellow variation. The drive is void of any LED, but the end opposite the USB 3.0/2.0 connector houses a microUSB connector protected under a rubber cap attached permanently to the body of the drive. The drive has small hole to connect a ring, but does not supply the ring in the package. The drive is very small and is only about the length of two dimes laid next to each other. The drive advertises transfer speeds of up to 140 MB/s, but unlike other drives the Stellar has one of the smallest form factors available.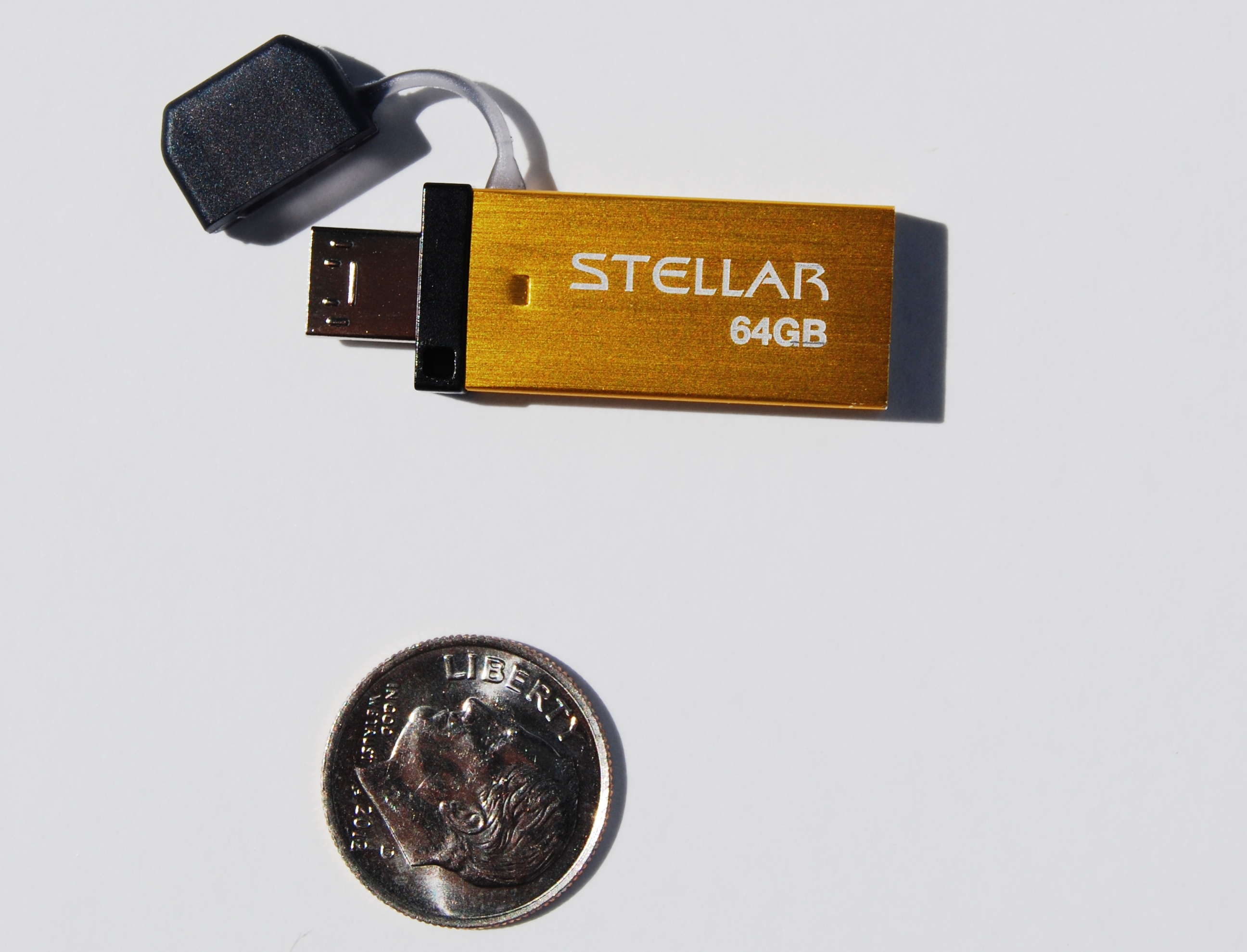 Performance
AS SSD Copy-Benchmark
The built-in copy benchmark in AS SSD tests the transfer performance of a drive by transferring ISOs, Programs and Game files. The results are displayed in MB/s and the time it takes to complete the transfer. This benchmark gives a real-world results of how the drive will perform with transferring certain file types, as opposed to simply recording the maximum data rate of the drive.
Crystal Disk Mark 3.0.3 x64
Crystal Disk Mark is another disk benchmarking tool that can double up as a USB flash drive speed tester. The screen is simple and gives readouts according to the type of tests performed.
Crystal Disk Mark can carry out sequential read/write tests (i.e. read/write data in order) or random 4KB/512KB reads/writes or text copy. The speed test results are displayed as large numerical in MB/s. The 396KB software runs as a standalone executable straight from the box and is compatible with Windows.
Performance Summary
The Patriot Stellar drive was not as fast as other drives we have tested, but it still did a good job considering it's primary focus is on portability. In our testing we were able to surpass the manufacturer's specification of up to 140 MB/s with a result of 150.7 MB/s read and 35.79 MB/s write. Admittedly the write performance is slow, but the product is designed to be as small as possible and designed knowing that transfer speeds from Android devices would likely be a bottleneck. That being said the performance is right on track with what we would expect from such a small and functional drive.
It is important to note that had a consumer been interested in the drive primarily for a 140 MB/s write performance, they would find themselves willfully disappointed by 35.79 MB/s write performance. As a comparison I performed the Crystal Disk Mark 3.0.3 benchmarks on a Seagate 500 GB USB 3.0 Slim Portable Drive with traditional spinning platters and found reads of 112 MB/s and writes of 103 MB/s. Thus if you are looking for roughly equal read and write speeds, a traditional hard drive will give you that.
Conclusion
The Patriot Stellar 64GB is a great little drive. Surprisingly we found that, unlike most USB flash drives, it performed better than advertised. In our testing we were able to surpass the manufacturer's specification of up to 140 MB/s with a result of 150.7 MB/s read and 35.79 MB/s write.
The drive is amazingly tiny and tough. The sleek look of the exterior is also a nice touch, as the drive is made of durable metal with a brushed aluminum finish. The lack of a slider was welcome and the inclusion of the cap over the microUSB connector provides protection from your pocket blocking the pins with lint and also provides a tough and finished look to the top end of the drive.
The feature that Android users will most like is the ability to simply pop the microUSB connector in and transfer data on or off their device. We were able to test the feature and it worked as advertised even on an older Samsung Galaxy S3. Due to the marked differences in performance of Android devices we were not able to benchmark transfer speeds, but given that your device has sufficient battery life you should not expect more than a few minutes to transfer a large amount of data.
The Patriot Stellar 64GB is a great little flash drive for Android users. Even if you use iOS devices, the fact that the microUSB connector is capped there is no reason not to buy this drive. It is exceptionally tiny, it has very fast read and moderately fast write speeds, and is rugged and durable without any sliders or superfluous bits to break or wear down. We recommend the Patriot Stellar 64GB for its svelte size, fast reads, and tough body.