Sapphire Radeon R9 270 Dual-X 2GB Review
Posted: November 17, 2017
---
Sapphire Radeon R9 270 Dual-X 2GB Review
---
Product Name: Sapphire Dual-X Radeon R9 270
Price: Starting at $179.99 – Amazon
Most of the Volcanic Islands graphics cards (sans only the 290 and 290x) are based on a refreshed architecture from AMD's previous Southern Island's family, but this new series offers better performance at lower prices. Also due to improved architectural tuning these refined chips are able run slightly more efficient this time around, allowing the clocks to be set higher while the power consumption is slightly lower.
The AMD Radeon R9 270 graphics card we are looking at today is one of two R9 graphics cards in the $200 price range making it an affordable option for budget gamers. Let's face it must of us can't afford AMD's behemoth pixel crushing products, instead we have to compromise in order to not break the bank, but since this card is based on the Pitcairn XT graphics processor that is comprised of 1280 streaming processors, 2GB of GDDR5 memory and a GPU clock of nearly 1GHz, meaning it can render games smoothly and for only $179.
The model we are examining was manufactured by Sapphire and is part of the Dual-X series. Essentially this means a few things – first it comes with Sapphire's latest heatsink design that features a large heatsink array with multiple heatpipes, a cooper core and dual intake fans. Secondly it also means this card is overclocked past the AMD GPU Boost specification, giving it better performance out-of-the-box.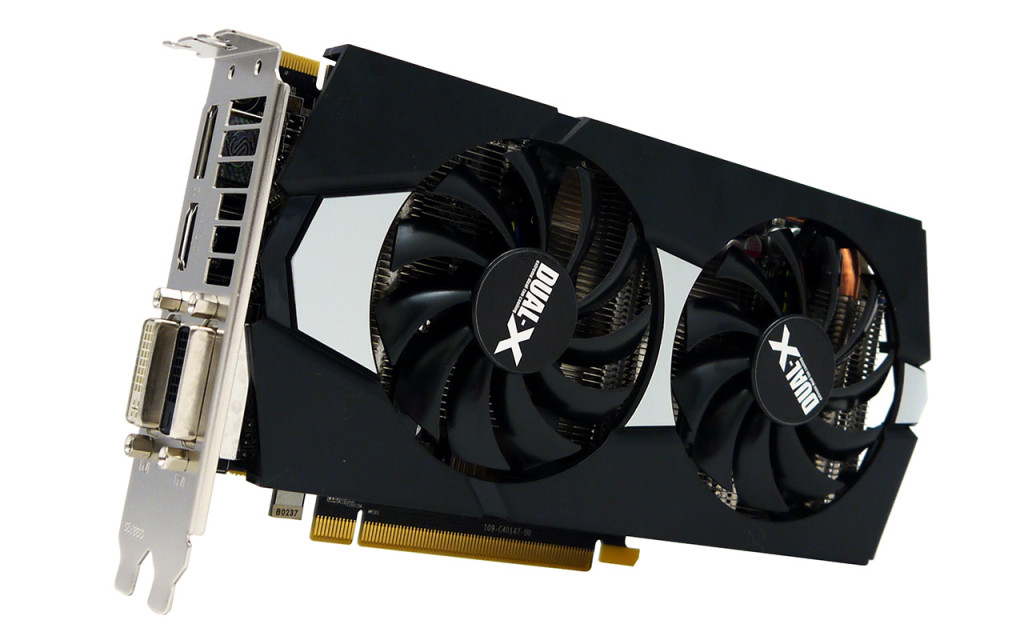 The AMD R9 290 is based on the 28nm "Curacao" silicon and includes 1280 shaders, 32 Raster units, 80 Texture Mapping units and a 2GB frame buffer that runs on a 256-bit wide bus. As we mentioned in our previous R9 270 review these specs are exactly the same as the more expensive R9 270x, but the 270 has lower clock speeds and consumes less power. This card is a direct replacement for the Radeon 7850, but it has substantially more power due to an additional 4 active CUs, allowing it to push more pixels per-second than its predecessor.
Additionally, with the overclocked frequencies capable of reaching 945Mhz when GPU Boost is active this card has better performance out-of-the-box. The 2GB of VRAM isn't overclocked though, so it uses the standard 5.6GHz standard, and since it resides on a 256-bit bus the bandwidth is rated at 179.2GB/s.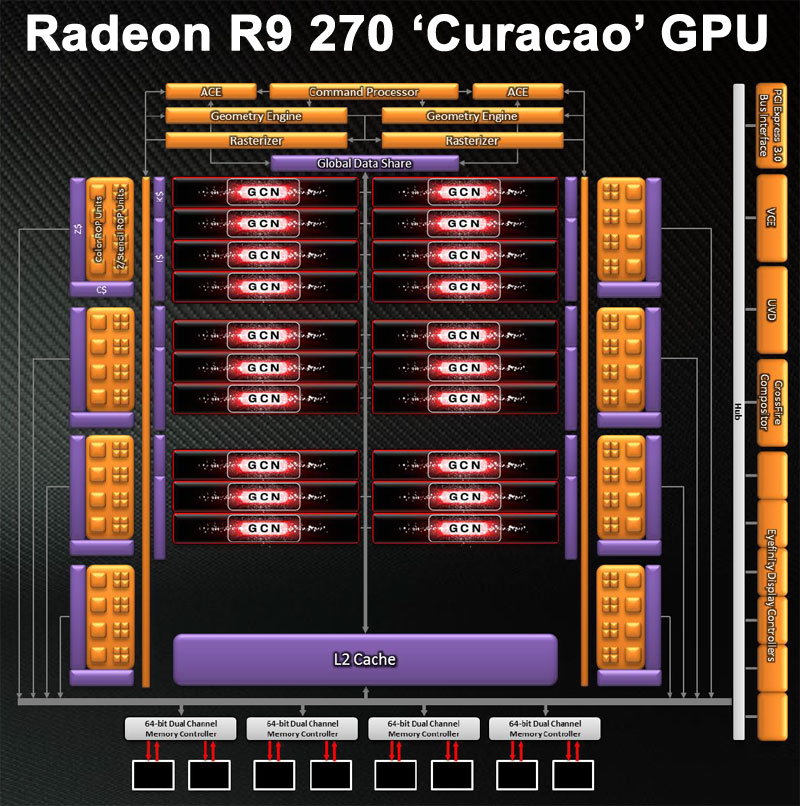 The price of the Sapphire R9 270 is $179.99, making it a perfect fit for a budget gaming rig. The price is also extremely close to the R9 270x, and since this model should have good overclocking headroom it might be worth while to save the $30 and increase the clock frequencies to match the performance of the 270x.
| | | | | |
| --- | --- | --- | --- | --- |
| | AMD Radeon R9 270X | AMD Radeon R9 270 | AMD Radeon HD 7870 | AMD Radeon HD 7850 |
| Stream Processors | 1280 | 1280 | 1280 | 1024 |
| Texture Units | 80 | 80 | 80 | 64 |
| ROPs | 32 | 32 | 32 | 32 |
| Core Clock | 1000MHz | 900MHz | 1000MHz | 860MHz |
| Boost Clock | 1050MHz | 925MHz | N/A | N/A |
| Memory Clock | 5.6GHz GDDR5 | 5.6GHz GDDR5 | 4.8GHz GDDR5 | 4.8GHz GDDR5 |
| Memory Bus Width | 256-bit | 256-bit | 256-bit | 256-bit |
| VRAM | 2GB | 2GB | 2GB | 2GB |
| FP64 | 1/16 | 1/16 | 1/16 | 1/16 |
| Transistor Count | 2.8B | 2.8B | 2.8B | 2.8B |
| Typical Board Power | 180W | 150W | 190W | 150W |
| Manufacturing Process | TSMC 28nm | TSMC 28nm | TSMC 28nm | TSMC 28nm |
| Architecture | GCN 1.0 | GCN 1.0 | GCN 1.0 | GCN 1.0 |
| GPU | Pitcairn | Pitcairn | Pitcairn | Pitcairn |
| Launch Date | 10/08/13 | 11/13/13 | 03/05/12 | 03/05/12 |
| Launch Price | $199 | $179 | $349 | $249 |