XFX Radeon R9 280x Black Edition Double Dissipation 3GB Review
---
The follow up to the "Southern Islands" series of graphics cards has been on the market for a few months now and while only two new chips were introduced in the "Volcanic Islands", the refreshed graphics cards all received a price drop that was $100 on average– effectively giving gamers more bang for the buck. The two top-tier cards in the series are the AMD Radeon R9 290 and R9 290x, while just below these cards is the 280x, which utilizes the "Tahiti XT" graphics processor previously used with the Radeon 7970. This means that the 280x features last gen's flagship GPU but with the new pricing structure, so you get the same performance for $399 instead of $499.
While you can buy a reference graphics card with a stock cooler, most people wait out for better thermal solutions to hit the market instead of being an early adopter. Since the "Tahiti" GPU has been on the market for over a year though, there was no waiting time, allowing companies such as XFX to launch their custom cooled R9 280x graphics card right out of the gate.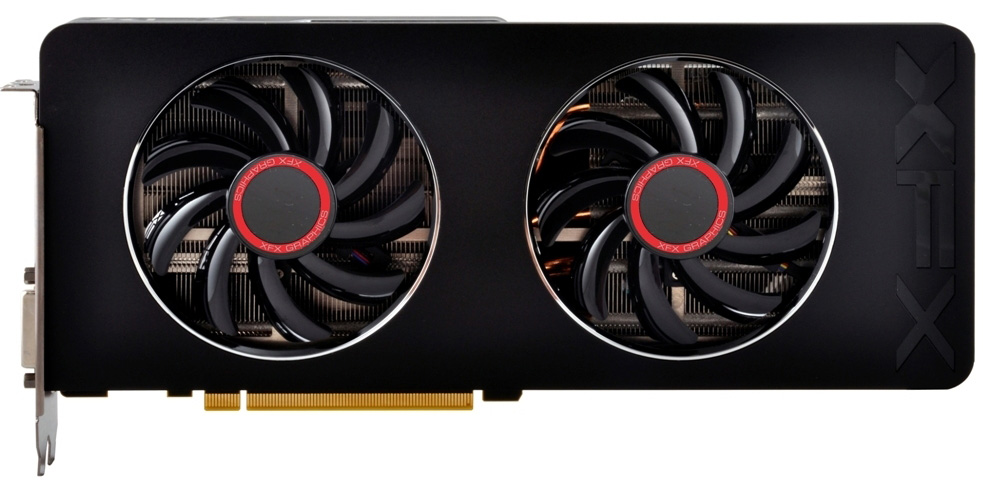 Over the last year we have tested multiple graphics cards with the XFX Double Dissipation design but this time around, the cooler has gone through some fairly significant revisions. First off, the brushed aluminum cover is gone in favor of a black heatsink shroud that has dual aluminum rings covering each fan cutout. Additionally, the surface area of the heatsink has been increased dramatically which is going to improve the thermal efficiency of the heatsink. The fans are also larger than the previous generation and at 100mm they will be able to deliver more airflow to the heatsink's finstack at lower decibel levels, improving both the thermal and acoustic performance.
The Radeon R9 280x is a based on the "Tahiti XT" graphics processor, the same used on the Radeon 7970. Since this is the case, the GPU uses a 365mm² die that is compiled of 2048 streaming processors, 32 ROPS and 128 texture units. As part of the XFX Black Edition the core and boost clock speeds of this model are increased beyond the stock frequencies, sitting at 1000MHz and 1100MHz respectively, giving it over 3.8 TFLOPs peak single precision FP and 950 GFLOPs of double precision performance. Additionally, the 280x comes with a 3GB GDDR5 frame buffer rated at 1500MHz (6Gbps QDR) and runs on a 384-bit memory bus.
The XFX Radeon R9 280x Black Edition Double Dissipation 3GB retails for $439, making it $39 more expensive than the reference models. The XFX DD cooler already looks sexier than the default AMD cooler though and it also features a lifetime warranty plus unlocked voltage control to improve the overclocking headroom. The price of admittance also includes a free copy of Battlefield 4, which takes a bit of the sting out off the $39 premium.
AMD Radeon 200 Series Specification Comparison
Model
XFX Radeon R9 280X DD
AMD Radeon R9 280X
AMD Radeon R9 270X
AMD Radeon R7 260X
Stream Processors
2048
2048
1280
896
Texture Units
128
128
80
56
ROPs
32
32
32
16
Core Clock
1000MHz
850MHz
1000MHz
1000MHz?
Boost Clock
1100MHz
1000MHz
1050MHz
1100MHz
Memory Clock
6GHz GDDR5
6GHz GDDR5
5.6GHz GDDR5
6.5GHz GDDR5
Memory Bus Width
384-bit
384-bit
256-bit
128-bit
VRAM
3GB
3GB
2GB
2GB
FP64
1/4
1/4
1/16
1/16
TrueAudio
N
N
N
Y
Transistor Count
4.31B
4.31B
2.8B
2.08B
Typical Board Power
250W
250W
180W
115W
Manufacturing Process
TSMC 28nm
TSMC 28nm
TSMC 28nm
TSMC 28nm
Architecture
GCN 1.0
GCN 1.0
GCN 1.0
GCN 1.1*
GPU
Tahiti
Tahiti
Pitcairn
Bonaire
Launch Date
10/11/13
10/11/13
10/11/13
10/11/13
Launch Price
$439
$399
$199
$139
---