Noctua NH-D15 CPU Cooler Review
Posted: November 17, 2017
---
Noctua NH-D15 CPU Cooler Review
---
Cooling solutions come in all shapes and sizes but the dual-tower design is a very distinct model that is mostly associated with the extremely popular Noctua NH-D14. There may be CPU coolers with dual tower designs that came before it but the NH-D14, with its saw-tooth aluminum fin radiators and uniquely colored Noctua fans is an enthusiast favorite for its excellent heat management while operating fans that are not distractingly loud. The NH-D14 however is several years old now, so like most of other PC related components, it is due for an upgrade.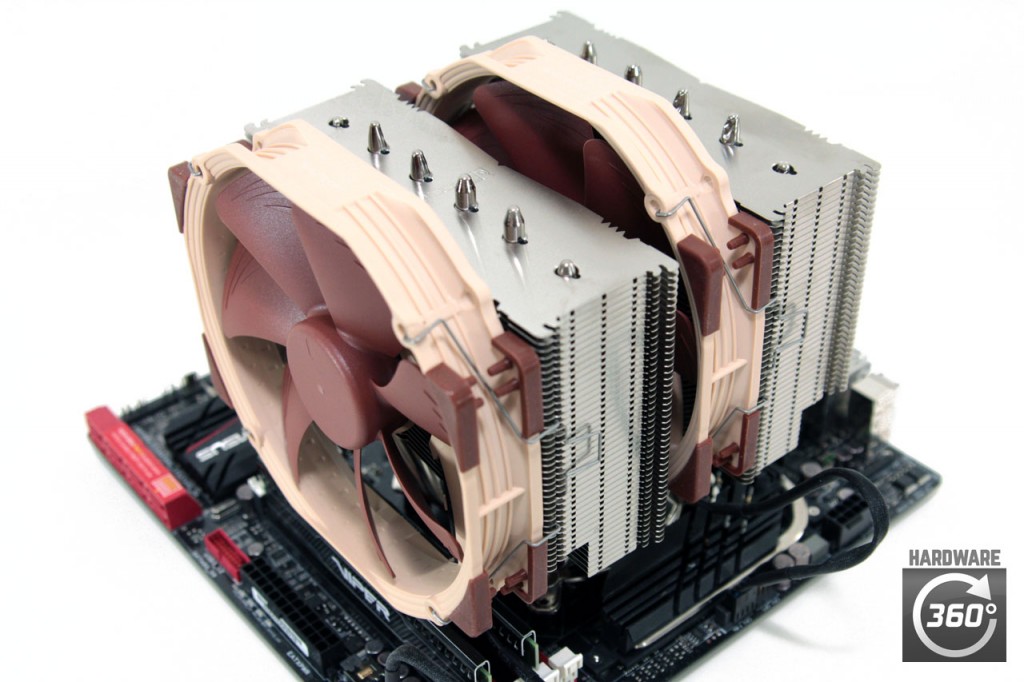 The Noctua NH-D15 replaces the massively successful NH-D14 as Noctua's flagship CPU cooler offering, moving towards a more efficient design and equipped with a pair of Noctua's latest NF-A15 fans. Users with tall RAM heatspreaders will also be delighted by the fact that RAM compatibility has been taken into account in designing the NH-D15, moving the lower fin stack to provide 64mm of clearance for the first and second DIMM slot when installed. The NH-D15 is available with an MSRP of $99 USD and carries a 6-year warranty covering the heatsink build, accessories and fans.
Specifications:
Heatsink Specifications:

Socket compatibility:

Intel LGA2011 (Square ILM), LGA1156, LGA1155, LGA1150 & AMD AM2, AM2+, AM3, AM3+, FM1, FM2, FM2+ (backplate required)
Height (without fan):

165mm
Width (without fan):

150mm
Depth (without fan):

135mm
Height (with fan):

165mm
Width (with fan):

150mm
Depth (with fan):

161mm
Weight (without fan):

1000g
Weight (with fan):

1320g
Material:

Copper (base and heat-pipes), aluminium (cooling fins), soldered joints & nickel plating
Fan compatibility:

140x150x25 (with 120mm mounting holes), 140x140x25 (with 120mm mounting holes), 120x120x25
Scope of delivery:


2 x NF-A15 PWM premium fan
2 x Low-Noise Adaptor (L.N.A.)
Y-cable
NT-H1 high-grade thermal compound
SecuFirm2™ Mounting Kit
Noctua Metal Case-Badge

Warranty:

6 years
Fan Specifications:

Model:

Bundled Noctua NF-A15 PWM
Retail Noctua NF-A15 PWM
Bearing:

SSO2*
SSO2
Max. Rotational Speed (+/- 10%):

1500 RPM
1200 RPM
Max. Rotational Speed with L.N.A. (+/- 10%):

1200 RPM
900 RPM
Min. Rotational Speed (PWM, +/-20%):

300 RPM
300 RPM
Max. Airflow:

140.2 m³/h
115.5 m³/h
Max. Airflow with L.N.A.:

115.5 m³/h
88.7 m³/h
Max. Acoustical Noise:

24.6 dB(A)
19.2 dB(A)
Max. Acoustical Noise with L.N.A.:

19.2 dB(A)
13.8 dB(A)
Input Power:

1.56W
0.96W
Voltage Range:

12V
12V
MTBF:

> 150.000 h
> 150.000 h
SSO2 = Noctua's 2nd Generation Self-stabilising oil-pressure bearing, a type of fluid dynamic bearing design with a magnet placed close to the rear of the rotor axis.