ADATA XPG V2 8GB 1600MHZ Memory Review
Posted: November 17, 2017
---
ADATA XPG V2 8GB 1600MHZ Memory Review
---
The ADATA XPG V2 series is the companies flagship memory product and for good reason. The lineup comes with speeds of up to 3100 MHz, with timings of CL 12-14-14-36 at 1.65V (XMP Profile 1). Speed alone doesn't make memory great though, greatness lies within the ICs, heatspreader, performance and of course overclocking. On all of these fronts the XPG V2 memory should kick some serious ass, as it utilizes an extruded heat sink with an increased surface area, providing superior thermo-conductivity, an industry-leading 2oz double-copper PCB and high quality (single sided) SK Hynix ICs.
As a reviewer, this isn't my first time testing the XPG V2 kit of memory, but the last kit I had was the 2400MHz kit, while the kit we are looking at today is their 1600MHz kit. Since we are dealing with lower bandwidth, I am really interested to see just how high this kit can overclock. If it is like the previous V2 memory we tested it should have plenty of headroom, which increases the value considering you can potentially run an affordable 1600MHz kit at 2400MHz+.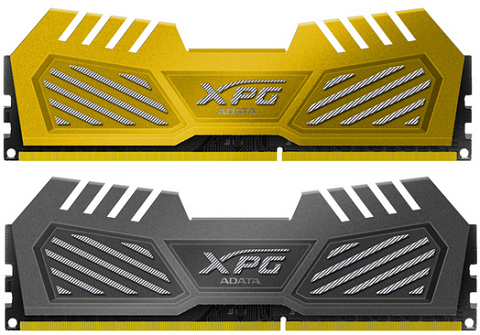 This 1600MHz kit comes with default timings of 9-9-9-24 at 1.5V. While we were sent the gold edition, there are two color choices to chose from; gold or Tungsten grey. One the pricing front, the ADATA XPG V2 is slightly more expensive than standard memory kits on the market, but this is to be expected considering the quality of the ICs and heatspreader. Also, at $76 for an 8GB kit of memory running at 1600MHz, the XPG V2 is far from the most expensive memory on the market.