Patriot Supersonic Magnum 128GB USB 3.0 Flash Drive Review
Posted: November 17, 2017
---
Patriot Supersonic Magnum 128GB USB 3.0 Flash Drive Review
---
Product Name: Patriot Supersonic Magnum 128GB Flash Drive
Price: Starting at $123.99 – Amazon
Introduction:
We have reviewed multiple flash drives throughout the last week and maybe, just maybe we saved the best for last. Today we are going to be looking at the Patriot Supersonic Magnum 128GB Flash Drive. Like the other drives we examined the Magnum utilizes the USB 3.0 interface to achieve amazing read and sequential write speeds of up to 260MB/s and up to 160MB/s respectively. The Magnum is able to achieve this by using a flash memory controller with 8-Channel technology that splits the throughput going to the USB 3.0 controller into 8 separate data lanes, allowing more read and writes to happen simultaneously.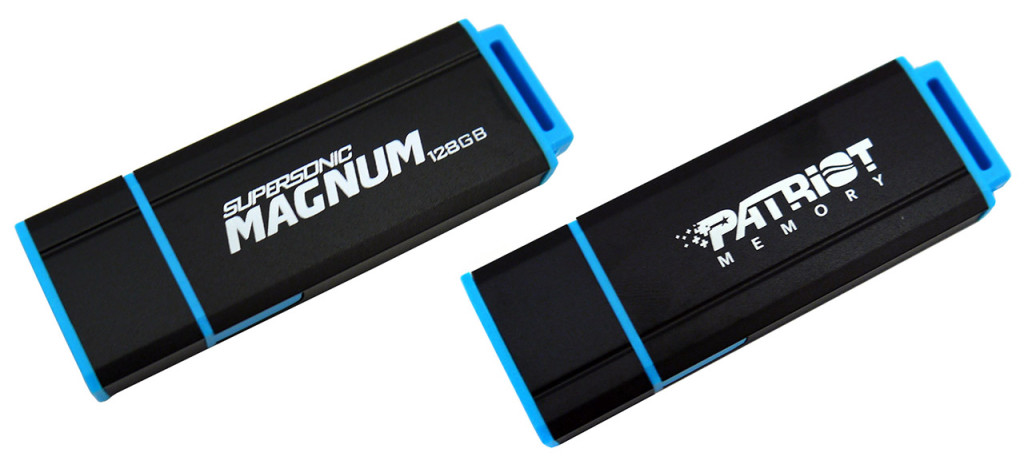 The Patriot Supersonic Magnum also comes with a heavy duty aluminum enclosure that is shock resistance of up to 15Gs to ensure greater protection of your data, and the strength of the metal makes it durable enough to protect the drive if it is accidentally dropped. The enclosure is large though, which tends to be the standard for high capacity flash drives that feature an 8-channel controller. This means it can block nearby USB ports, however, the rectangular shape prevents it from blocking any ports above, or below it, just ones to the sides are blocked.
The version we are looking at the is the 128GB model, which has an interesting pricing structure relative to the other Magnum drive. This particular drive is listed at 123.99, putting the overall cost just shy of $1 per gigabyte. However the 64GB and 256GB capacity drives have an MSRP that is just over the $1 per gig mark, so overall this model is the best value when looking at the price to storage ratio.